Download a collection of free resources with lots of great information, useful tools and quick-start templates. This includes our OEE Pack, Manufacturing Pack, and Leadership Pack (28 riveting documents in total).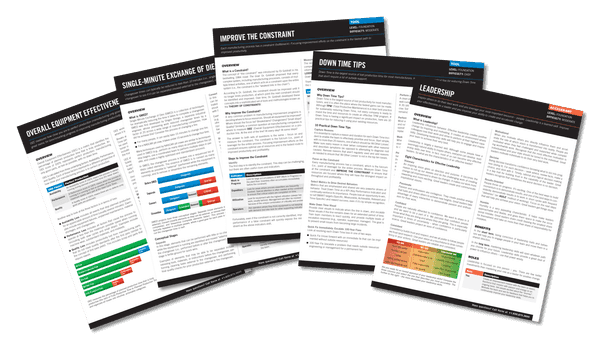 Our OEE Pack includes a 25-page OEE Training Guide, an OEE Pocket Guide, a Calculating OEE Worksheet and Spreadsheet, OEE Project Organizer, OEE Stop Reason Tick Sheet, OEE Stop Event Log, OEE Manual Top Loss Report, and summaries of the Top 35 Lean Tools and Seven Deadly Losses.
Our Manufacturing Pack includes executive summaries on OEE, Six Big Losses, Down Time Tips, SMED, Improve the Constraint, Top Losses, IDA, and Short Interval Control. It also includes IDA audit sheets for OEE and a worksheet for Short Interval Control meetings.
Our Leadership Pack includes executive summaries on Leadership, Great Meetings, Agile, and Be Your Best. It also includes templates to help you implement Great Meetings.